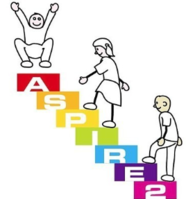 Aspire2
Support our cause!
Next Reading Community Lottery draw on Sat 28 May at 8PM
The draw is in 3 days 9 hours 24 minutes!
About Us:
Aspire2 is a charity working with young people and families of South Reading's Whitley Excellence Cluster of schools.
We provide activities which our young people and families would otherwise not be able to experience.
Our aim, through these activities, is to deliver rich experiences. Not only to ensure young people are helped to realise their aspirations, but also so that they are exposed to choices which might not have otherwise occurred to them. Consequently they are enabled to dare to aspire.
Through our programme of activities, we specifically want to:
o Increase social ability
o Develop better self-awareness and resilience
o Improve self-esteem
o Develop individual ability to make informed decisions.
And through our programme of day trips we hope to allow families quality time together away from home.
Aspire2 provides a much loved and valued service for the community.
We need your help so we can continue to offer and even expand our service!
Thank you for your support and good luck!
Recent Supporters:
Mr C supported us with 2 tickets
661 days ago
Mrs E supported us with 1 ticket
748 days ago
Mr P supported us with 1 ticket
749 days ago
Ms G supported us with 3 tickets
749 days ago
60%
Support your cause
Feel great knowing 60% of ticket sales will go to good causes - 50% to your chosen cause and 10% to other causes in the area of Reading.
£1
Only £1 per week
That's right, unlike many other lotteries Reading Community Lottery tickets are only £1 per week
£25K!
Great prizes
Each ticket has a 1 in 50 chance to win, with a top prize of £25,000! Gift vouchers
Fancy treating your loved ones to something a little different? We've got just the thing!