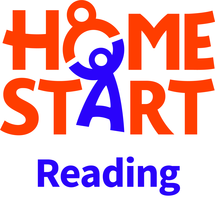 Home-Start Reading
Supporting families in Reading to help parents give their children the best possible start in life
Next Reading Community Lottery draw on Sat 28 May at 8PM
The draw is in 3 days 7 hours 41 minutes!
About Us:
Although Reading is a prosperous town, 24% of children here live in poverty.
Each year we support around 100 local families where parents of young children are struggling due to a range of social and health challenges. We help them build their confidence, capabilities and resilience, giving children the chance of a more secure future with the same opportunities as their more fortunate peers.
Here's how we help:
We match families with a dedicated, fully-trained volunteer. Mostly parents themselves, they spend a few hours a week with the family, usually in their home, helping in any way they need.


We run Family Group sessions in Whitley and Ranikhet, two of the most deprived areas of the borough. These enable parents and children to benefit from socialising with each other as well as the opportunity to get support from our staff in a neutral setting.


We offer low-key mental health support to new mums with our Mums in Mind courses. The sessions create a safe, supportive environment where emotionally vulnerable mums can connect, build trusting relationships and support each other.


More recently we have begun offering antenatal parenting courses, aimed at expectant mum and dads, to prepare them to be confident and capable parents.
All of our services are free of charge. We receive no statutory funding so we depend on local donors to keep afloat.
We need your help to continue our work empowering vulnerable families in Reading, to give children the best possible start in life.
Thank you for your support and good luck!
Recent Supporters:
Miss H supported us with 1 ticket
21 days ago
Ms L supported us with 1 ticket
76 days ago
Ms B supported us with 2 tickets
77 days ago
Miss H supported us with 1 ticket
112 days ago
Ms B supported us with 3 tickets
167 days ago
Miss H supported us with 1 ticket
197 days ago
60%
Support your cause
Feel great knowing 60% of ticket sales will go to good causes - 50% to your chosen cause and 10% to other causes in the area of Reading.
£1
Only £1 per week
That's right, unlike many other lotteries Reading Community Lottery tickets are only £1 per week
£25K!
Great prizes
Each ticket has a 1 in 50 chance to win, with a top prize of £25,000! Gift vouchers
Fancy treating your loved ones to something a little different? We've got just the thing!