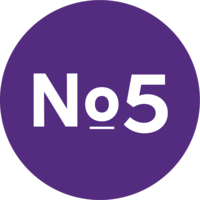 No5 Young People
Help young people become mentally fit
Next Reading Community Lottery draw on Sat 28 May at 8PM
The draw is in 3 days 8 hours 29 minutes!
About Us:
ABOUT US:
No5 Young People provides a much loved and valued service for children and young people in the "RG" postcode area who are struggling with their mental and emotional health. We provide free professional counselling to any young person aged 11 to 25 who needs us, and we also support parents and carers, run workshops and peer support in schools, and we encourage young people to become involved in positive activities like drama and the performing arts.
No5 work closely with other organisations in the area to stick up for young people, make sure children's needs are considered in local services and fight the stigma of mental health.
We need your help so we can keep providing support to children who are struggling with anxiety, depression, anger issues, eating disorders, relationship problems, bullying, family breakdown, and emotional, physical and sexual abuse. Often young people are battling an exhausting combination of several difficulties. Sometimes the children we see are 'acting out' their problems in ways that are putting them at risk, getting them into trouble, or affecting how well they do at school. When children feel better, they do better – at school, in their friendships and relationships, and at home - and this has a knock-on benefit for families and the community too.
Last year we provided 3,604 counselling sessions to 843 young people, each session costs us £35. We expect to see well over 1,000 young people for counselling this year, and demand is still rising.
Our experience, over many years, tells us that counselling and confidential support for young people can set them up with the skills and understanding to move on from us as grounded, secure and engaged young adults, who have a great deal to contribute to society, and who care very deeply about supporting others. We see this every day. Please help us to do even more.
Thank you for your support and good luck from everyone at No5!
Alyson Wylding
Director & Psychotherapist
Recent Supporters:
Ms T supported us with 1 ticket
9 days ago
Ms B supported us with 2 tickets
90 days ago
Mr F supported us with 2 tickets
382 days ago
Mrs B supported us with 5 tickets
812 days ago
Mrs C supported us with 3 tickets
816 days ago
Ms N supported us with 2 tickets
816 days ago
60%
Support your cause
Feel great knowing 60% of ticket sales will go to good causes - 50% to your chosen cause and 10% to other causes in the area of Reading.
£1
Only £1 per week
That's right, unlike many other lotteries Reading Community Lottery tickets are only £1 per week
£25K!
Great prizes
Each ticket has a 1 in 50 chance to win, with a top prize of £25,000! Gift vouchers
Fancy treating your loved ones to something a little different? We've got just the thing!