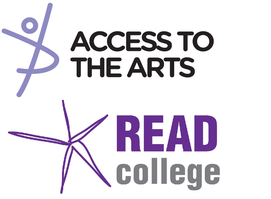 Read College / Access to the Arts
Support our cause!
Next Reading Community Lottery draw on Sat 24 April at 8PM
The draw is in 3 days 17 hours 56 minutes!
About Us:
Access to the Arts / Read College supports disadvantaged and under-represented young people in the Performing Arts.
As well as running the UK's leading Performing Arts Foundation Courses to give our beneficiaries the chance to train full-time for a career in theatre, we also operate a growing outreach programme which reached over 2,000 across the UK (in 2019).
Many of our full-time students live, and have been at school, within the local area, and are supported by the Access to the Arts funding scheme.
Access to the Arts is looking to support even more young people in this way and expand the outreach provision within the local community. We also have exciting plans for a refurbishment and upgrade of Read College's home at St Bartholomew's Church - facilities which can be offered to the local community.
We would love your help so we can continue to offer and expand Access to the Arts!
Thank you for your support and good luck!
Yours sincerely,
Helen & Jamie Read, Joint Chief Executives
Read College / Access to the Arts

Recent Supporters:
Dr S supported us with 1 ticket
56 days ago
Mr C supported us with 1 ticket
106 days ago
Ms S supported us with 1 ticket
107 days ago
Ms H supported us with 2 tickets
112 days ago
Mx D supported us with 1 ticket
125 days ago
Mx P supported us with 1 ticket
127 days ago
60%
Support your cause
Feel great knowing 60% of ticket sales will go to good causes - 50% to your chosen cause and 10% to other causes in the area of Reading.
£1
Only £1 per week
That's right, unlike many other lotteries Reading Community Lottery tickets are only £1 per week
£25K!
Great prizes
Each ticket has a 1 in 50 chance to win with a top prize of £25,000! Gift vouchers
Fancy treating your loved ones to something a little different? We've got just the thing!