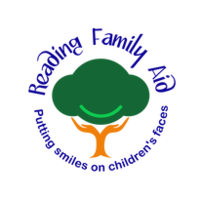 Reading Family Aid
Putting Smiles on Children's Faces
Next Reading Community Lottery draw on Sat 28 May at 8PM
The draw is in 3 days 8 hours 10 minutes!
About Us:
Our mission is to put a smile on the faces of disadvantaged children in the Reading area

We help children living with poverty and other disadvantages. They may be young carers, for example; or living in a family affected by drug taking, physical abuse, chronic illness or disability; or they may have a disability or illness themselves.
At Christmas we distribute toys to children aged 0-16 through our Toys & Teens Appeal. If our funds permit, we also provide outings throughout the year for children and their families who couldn't afford to go otherwise.
Please support us by buying a Reading Community Lottery ticket.
Thank you from the Reading Family Aid committee.
Recent Supporters:
Mrs H supported us with 2 tickets
14 days ago
Mx P supported us with 1 ticket
227 days ago
Ms S supported us with 1 ticket
245 days ago
Mr W supported us with 3 tickets
336 days ago
Ms B supported us with 1 ticket
356 days ago
Ms W supported us with 1 ticket
373 days ago
60%
Support your cause
Feel great knowing 60% of ticket sales will go to good causes - 50% to your chosen cause and 10% to other causes in the area of Reading.
£1
Only £1 per week
That's right, unlike many other lotteries Reading Community Lottery tickets are only £1 per week
£25K!
Great prizes
Each ticket has a 1 in 50 chance to win, with a top prize of £25,000! Gift vouchers
Fancy treating your loved ones to something a little different? We've got just the thing!